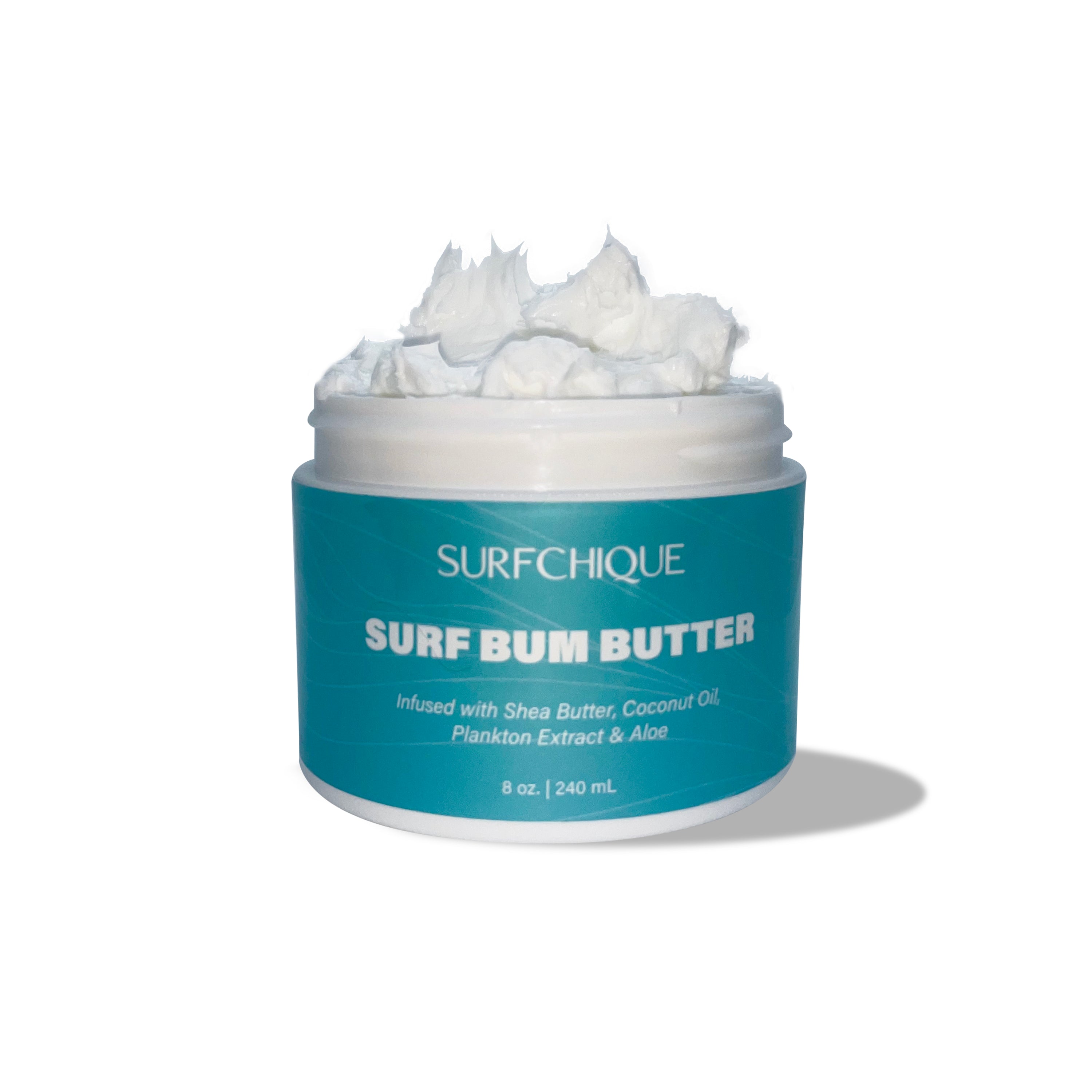 Description
Ingredients
Inside Scoop
Indulge yourself with our luxurious & deeply moisturizing body butter containing natural ingredients from the sand & the sea. Perfect for dry skin and as an after sun body butter.
Coconut oil, Shea butter, and Aloe immerse you in a wave of moisture while Vitamin E helps to smooth dry skin over-exposed from the sun.
Marine Plankton helps to smooth & tighten your skin by activating adipose (aka fatty) tissue.
Help sculpt your body while creating glistening skin kissed with our light and refreshing tropical Surf Bum scent infused with coconut and vanilla and a splash of mango and papaya.
Aqua (Water), Isopropyl Palmitate, Caprylic/Capric Triglyceride, Butyrospermum Parkii (Shea) Butter, Glyceryl Stearate SE, Helianthus Annuus (Sunflower) Seed Oil, Cetyl Alcohol, Stearic Acid Glycerin, Beeswax, Steareth-21, Aloe Barbadensis Leaf Juice, Polysorbate 60, Cocos Nucifera (Coconut) Oil, Olea Europaea (Olive) Fruit Oil, Plankton Extract, Tocopherol (Vitamin E), Carbomer, Sodium Hydroxide, Phenoxyethanol, Ethylhexylglycerin, Fragrance
A little of our body butter goes a long way and should last you a long time.

The fragrance in our Surf Bum Butter is from our "Sand in Your Sheets" fragrance oil perfume. It is very light and refreshing, but if you want to turn it up a notch and get a heavier scent, pick up the perfiume oil & add a few more drops of it to your jar, as you desire. You can also layer our Surf Bum Butter with the fragrance for a perfect combo!

We admit, we were inspired to create our own body moisturizer after seeing another brand celebrate the lifestyle of a certain group (hint, the recent trend of Brazilian pro surfers has nicknamed the term "Brazilian Storm"). We were like, we want to celebrate the lifestyle of surfers and found a formula with ingredients from the sand and sea to align with our surf inspired life!

Best body butter ever
Skin is beyond soft! Not greasy and smells amazing! Highly recommend!
Best Body Bum 🏄🏼‍♀️
I recently got three products from this brand and one of them was the surf Bum butter and let me tell you it is absolutely creamy and very moisturizing and smells so delicious. And as much as I hate to compare brands with other brands, I would have to compare this to Kopari's coconut body butter, because it's very similar only it's way more expensive! This one I think has just as much quality if not a little bit more because it's a little bit thicker so a little bit goes a long way and don't get me wrong. Both products are perfect but if you're going to buy some thing that's exactly like some thing else and works just as good. Wouldn't you rather buy some thing a little less expensive maybe that's just me personally, but I absolutely love this scream and completely recommend it 100%
Surf Bum Butter
Awesome in every way!! I have CeraVe, Gold Bond, . . . so many creams and lotions and still my hands and feet stayed dry and chapped. Not only does this body butter have the most delicious calming smell that helps me drift off to sleep or stays with me through the day, it has solved my dry skin problem. My next move is to send some to my daughter and little sister. What a treat and bit of magic this cream gives me!! I highly recommend this butter!!!
So creamy and smells amazing!
I love this formula! So creamy and so moisturizing, and the smell is not overpowering but it's so nice. I got complimented all the time on it.
Hydrating with greasy feeling
SurfChique Surf Bum Butter is an amazing whipped body butter experience! I will first say that this is superior to other body butters that I have tried because its formulation is thick but not greasy. Once it goes on my skin, I feel well hydrated with none of the greasy feeling. The Shea Butter, Coconut Oil, Plankton Extract and Aloe really make for some fantastic scent notes that are light and soothing.